2012 September - Truly Scrumptious!
After the school re-opened in mid-September, the children were treated to scrumptious snacks sent by a supporter in England. Another English supporter sent a DVD of the children's film
Chitty Chitty Bang Bang
with its leading lady, the delightful Miss Truly Scrumptious. The children enjoyed the snacks and were able to watch the film in October, after the electricity supply had been connected and electrical sockets installed.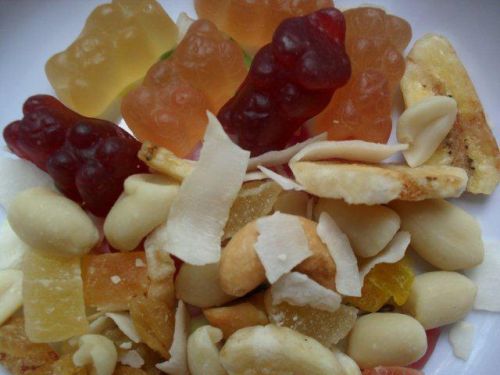 The snacks foods included
VegeBear's gelatine-free fruit jellies
, which are not only truly scrumptious and fruity but very suitable for children of any religion to eat. Schoolchildren at the school are mostly Ethiopian Orthodox Christians, with 20% Muslims. For much of the year, the Orthodox Christians have fasting days on which they do not eat animals or animal products. To avoid causing offence, it is always best to send gelatine-free fruit sweets and gums. Award-winning
VegeBear's fruit jellies
are made by
Just Wholefoods
in Gloucestershire.
The other excellent snack that was sent was
on the go
, described as a "fusion snack" and "Tropical with a Twist" and "A delicious trail mix infused with papaya, pineapple and coconut". This truly scrumptious and very nutritious snack is prepared by
Western Commodities
in Devon.
Nutritious snacks such as these are important for the schoolchildren because their diet is very limited, varying only with the seasons, and many of them suffer from stunted growth.