Empress Mentewab School opened in a rented shed in Gondar city in September 2007. It served children from inner-city slums. These children were beneficiaries of
The Kindu Trust
, the UK charity Kate set up in 1998 to help needy children in Ethiopia.
The school's first Headteacher was Mr Worku. Unfortunately, Mr Worku developed liver cancer. In early 2008 Kate took on the job of Headmistress when Mr Worku had to resign because of ill-health . He died weeks later.
In the 2008-09 academic year, the school had 64 pupils - 24 in a Grade 2 class and two Grade 1 classes of 20 - with three teachers, two cleaners and a cook.
School lunches were provided for the children, in addition to morning and afternoon snacks.
The children were taken on educational outings to Fasil Castle and a bookshop in Gondar, to Lake Tana (40 kilometres to the south), and to the Simien Mountains.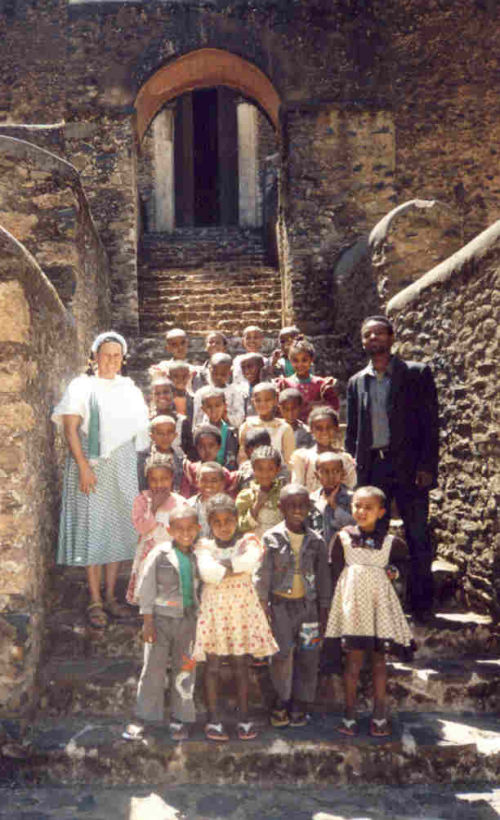 For 2009-10, the school was closed while it was moved to its new rural location in the village of Dib Bahir and building work commenced.
In 2010-11, there were three classes and a total of 60 pupils. With no classroom, Kate used a temporary shelter.
In 2009 Kate had applied for land on which to build the school, but the Debark Woreda (county) administration did not process the application because some local people objected to the school being built on what had for decades been common grazing land. Kate was asked to stop all building work until the dispute was resolved. The dispute went to court and Empress Mentewab School won the case. Despite this, Kate decided to move the school from the grazing land, to avoid future conflict.
For 2011-12, there were four classes and 80 pupils, though the school was closed during the first semester while Kate went to England to visit her parents and to fund-raise for the school. During the second semester, the first classroom was built at a new site, on land owned by Kate and her husband.
The second structure to be built at the new site was a sandpit (4 metres by 4 metres), which was constructed during the school holidays in 2012.